It's well documented that women make up just 12% of the workforce in the construction industry, with less than 1% being on site*.
Encouraging diversity is something that we take seriously and believe that this is one of the key factors in creating equal opportunities within the workplace. We're incredibly proud that, here at Ring Stones, we're currently above the national average gender ratio.
On International Women's Day 2021, we'd like to introduce you to a new member of the Ring Stones team – meet Aimee Anderson, Trainee Quantity Surveyor.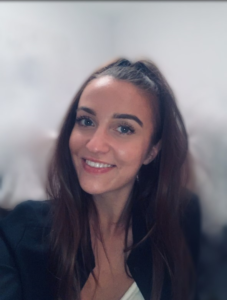 Tell us a bit about yourself.
Hi, my name is Aimee Anderson and I work at Ring Stones as a Trainee QS. I live in a village in the Borough of Pendle with my mum and dad, and our dog, Miffy. My hobbies [pre-COVID] include going to the gym, going out with friends and walks on a Sunday…that usually leads to a pub! I also help my friend run a restaurant at weekends sometimes by cooking and waitressing for her, which I really enjoy doing.
How have you found your experience working in the construction industry so far?
I have found it really good and enjoy what my role entails. I know there can be a bit of a stigma around women working in construction, but I really don't see any of this. Everyone is always respectful and helps me out to better myself in my role. I enjoy working with the people I work with, but it has been challenging starting during a pandemic, as there has been limited access to the office, and I have learnt a lot so far from home, remote working. Working from home has enabled me to figure things out on my own and practise new tasks, rather than usually sat in the office being shown what to do. I feel this has really helped me to learn quicker than usual and understand what I have done wrong/right so I remember forthe next time I do it.
What is the biggest lesson you've learned?
To be organised! I have got a lot better at organising myself and things I need to do throughout the day since starting my job. Also, that everyone makes mistakes. Being new, I get worried about making mistakes, but soon realised that everyone else does too.
How did you get into the construction industry?
When I left college, I wasn't sure about what I wanted to do as a career. I had always wanted to be involved in construction in some way but didn't know much about the possible opportunities available to me. I volunteered at different construction companies to get a taste of what different roles there are and find out what would best suit me. The role of a Quantity Surveyor really stood out to me as something I wanted to do. After volunteering for two weeks at Ring Stones, they wanted to employ me as a Trainee QS, which I was so happy about.
What are your future career goals?
My future career goals who be to progress further within my role and hopefully, become a chartered surveyor through RICS. The main priority for me is to build up a wealth of knowledge and experience in the role to help me be a great QS in the future.
What piece of advice would you give to other women looking to get into construction?
Go for it! I was so nervous at first and thought it wouldn't be for me, but I really enjoy what I do and am excited to learn more about my role as I progress. Never be afraid to ask lots of questions – even if you think they might be silly.
*Source: https://www.ons.gov.uk/businessindustryandtrade/constructionindustry